Day 1. Arrival. Barcelona

Our driver will meet you right in the airport and bring you to the hotel with a private transfer.
Since this is an arrival day for everyone, it is best to spend time relaxing and recovering after a long flight, especially for those who fly tranatlantic.
But action starts already in the evening. That's when you meet with your tour leader in the hotel lobby and head for dinner to the nearby restaurant.
It's our first ''get together'' - mutual introduction, orientation, instructions, questions - during our first and welcoming dinner.
First night - in Barcelona.
Meals: Dinner.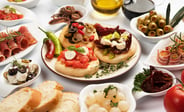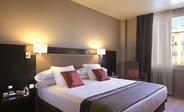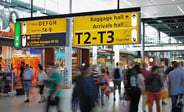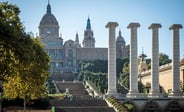 We'll start the day with a bus city tour around Barcelona with stops in its most emblematic places. Best highlights to see will be Sagrada Familia, Montjuic Mountain with Olympic facilities and its viewing point, Plaza Espana, Plaça Catalunya, L'Eixample district and the city center, Port Vell, Christopher Colom Statue, Villa Olimpica.
Later we'll proceed to the food workshop where with a local cook we'll learn how to prepare, cook and, of course, eat the most famous local Spanish dishes.
Free time in the afternoon to enjoy the beautiful city of Barcelona on your own.
Later we'll get together for another dinner in the local restaurant.
Second night - in Barcelona
Meals: Breakfast, Lunch, Dinner.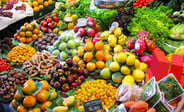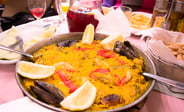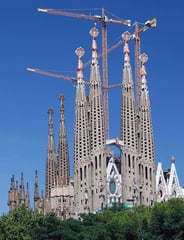 Day 2. Fruit market, cooking class, Barcelona tour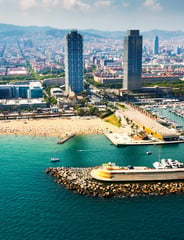 Today we'll head first to one of the most beautiful places in Catalonia - Montserrat Mountain, with a visit to an ancient Benedictian Monastery.
After proper tour and a free time to walk around to take some truly awesome pictures (views are stunning), our next stop will be for lunch - in rural and picturesque restaurant, where you'll also be shown a ''proper'' techniques of drinking wine locally.
After lunch we'll continue to famous wine region of Penedes, to visit one of the largest and most popular sparkling wine (cava) wineries in Spain - Codorniu or Freixenet. Guided tour, followed by a wine tasting.
One hour later we are back to Barcelona. This is the only day when we won't be having an organized dinner - just to give you more free time to enjoy Barcelona on your own and to buy presents or souvenirs, as tomorrow we check out of the hotel and start the next chapter of our trip.
Third night - in Barcelona.
Meals: Breakfast, Lunch.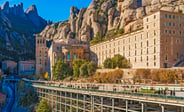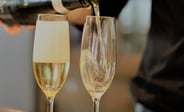 Day 3. Montserrat tour, countryside lunch, Cava winery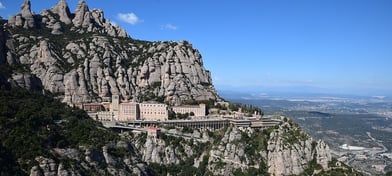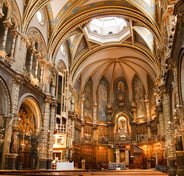 Today we are leaving Catalonia and heading to Zaragoza - capital of Spain's autonomous region of Aragón, which used to be its own kingdom. This means that Zaragoza is home to some finest grand monuments, palaces and houses.
But first we'll stop at the small family-owned winery, just less than an hour outside of Barcelona, in Penedes. Tour around with the owners and a wine tasting. Example of place: winery Mas Comtal.
Later we will continue To Zaragoza. Arrival, stop for the lunch, check in to the hotel and a free time.
In the evening we'll get together for dinner.
Fourth night - in Zaragoza.
Meals: Breakfast, Lunch, Dinner.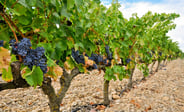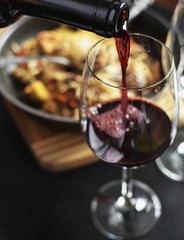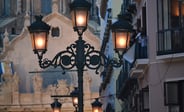 Day 4. Winery visit & transfer to Zaragoza


We'll start off with a city tour around Zaragoza and the visit to its main highlights: Moorish Aljafería Palace and stunning Basilica of Our Lady of Pilar, with Inside visits and tickets to both places included. Amongst other sights, we'll also see a Teatro Romano - the remains of amphitheatre of the Roman Empire. After a bit of free time we'll proceed to the restaurant for lunch.
Our next step is a 2-hour ride to the wine ''heart'' of Spain - La Rioja province, considered the best area in Spain to grow grapes - its soil and climate are absolutely perfect for wine-making. Extremely strict government control during the process of production makes La Rioja a world-recognizable quality wine brand.
Check in to the hotel, followed by an evening tour to one of the wineries nearby, tasting and a full dinner. Examples of winery: Bodegas Licea.
Fifth night - in La Rioja.
Meals: Breakfast, Lunch, Dinner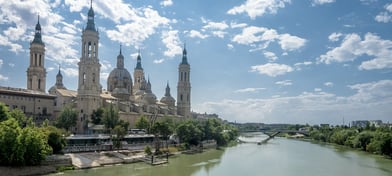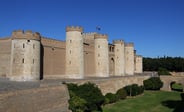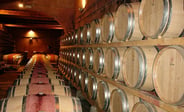 Day 5. Tour in Zaragoza, transfer and La Rioja winery

The day starts with a tour in La Rioja, visiting the beautiful city of Laguardia, as well enjoying beautiful panoramic views of the area.
Then we'll proceed to another winery in La Rioja - of a different style from the one we visited yesterday, but one thing will not change - excellent and delicious top-quality wine to taste at the end of the tour, followed by our last lunch in La Rioja.
Winery examples: Amezola de la Mora or Bodegas Tritium.
After, we'll say ''good-bye'' to La Rioja and head to the north, to the seaside of Atlantic - beautiful gastronomical capital of Spain - San Sebastian, a city famed for its beaches, quaint Old Town and first-class restaurants.
Check in to the hotel and, after a bit of free time - dinner to try excellent local seafood cuisine.
Sixth night - in San Sebastian
Meals: Breakfast, Lunch, Dinner.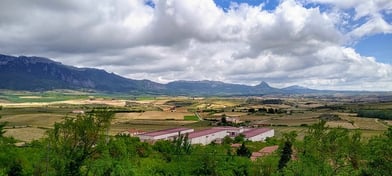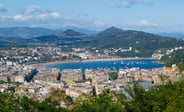 Day 6. Tour in La Rioja, another winery, San Sebastian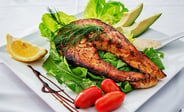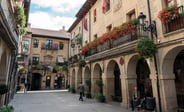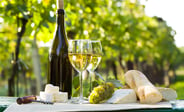 Today, after usual breakfast, the first thing on our list - to run a tour around the beautiful city of San Sebastian. Some of the highlights to see: Old Town, Plaza de la Constitucion, Cathedral, La Concha beach, Mount Iguelda viewing point.
Towards midday we'll do a next move and visit one of the local cider houses (cidreria), just outside of San Sebastian. Cider - is a beverage that is extremely popular in this part of Spain, and is made from fermented apples. We'll have a tour around, where the whole creation of this delicios drink will be shown. Of course, you'll have a chance to taste sider (and actually, drink lots of it), together with rural-style lunch. Example: Cidreria Petritegi.
In the afternoon we'll relocate to the city of Bilbao (just a bit more than 1h drive).
Dinner tonight will be in the typical northern style and will also include different types of ''pintxos'' - delicious small tapas (snacks) on the skewers.
Seventh night - in Bilbao.
Meals: Breakfast, Lunch, Dinner.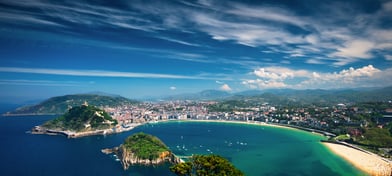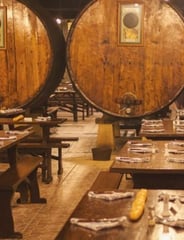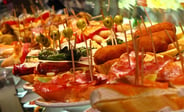 Day 7. Tour in San Sebastian, cidreria & Bilbao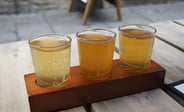 Today we are heading to the south, reaching Madrid at the end of the day.
But the day is long: first we'll have a city tour to enjoy and admire the most beautiful places in Bilbao: wicked Guggenheim Museum with some outside artworks, Old City center, Bilbao's Cathedral, Plaza Nueva and a viewing point on Mount Artxanda.
Next thing we'll do - we'll visit a beautiful local small artesanian cheese farm to see how delicious cheese is produced, try different kinds of it and have lunch here. Example: Queseria Izoria.
In the early afternoon we'll continue to Madrid. Arrival in the evening, check in to the hotel and dinner.
Eight night - in Madrid.
Meals: Breakfast, Lunch, Dinner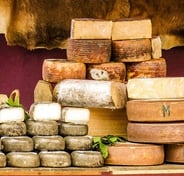 Day 8. Tour in Bilbao, cheese factory, Madrid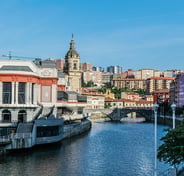 Our tour would not be a complete one without spending a day in Madrid - one of the most beautiful capitals in the world.
In the morning we'll have a tour to show you the most beautiful places of the city: Royal Palace, Gran Via street, Plaza Espana, Puerta del Sol, Plaza Real, Cibeles fountain with Neptune statue, Paseo de la Castellana and others. You will also go to a market where locals buy their food and try fresh and delicious tapas, cheese, ham, as well as degustate different types of olive oil.
Second half of the day is free to explore Madrid on your own, buy presents and get ready for a farewell group dinner, which we'll end the night with.
Ninth night - in Madrid.
Meals: Breakfast, Lunch (tapas style), Dinner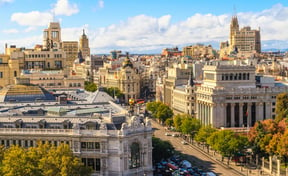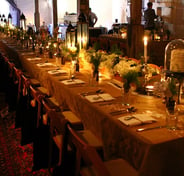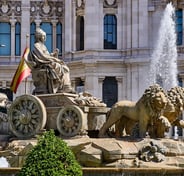 Day 9. Tour in Madrid, olive oil tasting, farewell dinner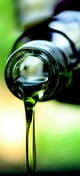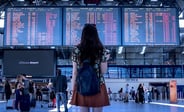 This is where your Spanish gastronomical adventure comes to an end. By that time we hoped that you got an awesome experience, enjoyed the country, the food, the wine, have lots of memories and definitely will be back to Spain one day. Everyone gets a private transfer to the airport according to their flights (except for the ones who opted to stay longer on their own!).
Time to say ''Hasta Luego!'' (See you next time!)
Meals: Breakfast.
Day 10. Check out and transfer to the airport.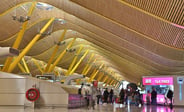 Pasaje Bocabella 10, 1-3
08013 Barcelona, Spain

Phone: +34 930 043 342
Skype: iberica.travel
Email: info@iberica-travel.com
(due to covid-19 we spend limited hours in the office, so please call skype, instead of phone).
northern spain gastronomy tour
food and wine tours spain
rioja wine tasting multiday tour